Daniel Bruns feat. Joicey – Sunwaves [CIRQ048]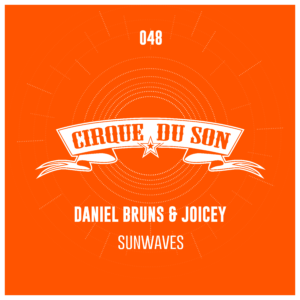 CIRQ048 Daniel Bruns feat. Joicey – Sunwaves
The nighttime darkness slowly fading out into a colourful dawn, the circus tent is filled with glistening waves of warming sun. 
Opened by an epic synthpad-piano hybrid, the vibe is instantly progressing forward – warming-up the sundrenched mood of 
Cirque Du Son's fourtyeights act. Foreshadowing the theme with the haunting, raspy soul of Joicey's voice, the beat firmly 
establishes the solid summer-tune evoking the image of flickering heatwaves of pulsating light.
Subtely intricate percussions further drive the beat with it's solid bassline and cyclic stabbings,
when Joicey's intimate whispers add to conjure the timeless sonic-sun of CIRQ048 Daniel Bruns feat. Joicey – Sunwaves. 
Rounded off by the Instrumental mix liontamer Daniel Bruns himself delivers yet another summer-gem on the open-air circus that is Cirque Du Son.
Tracklist:
01. Daniel Bruns – Sunwaves (Original Mix)
02.Daniel Bruns – Sunwaves (Instrumental Mix)
Beatport Release: 26.08.22
All Other Shops: 09.09.22