Thomas Corbach & Yonik – A Little Bit Of Jungle / Casual [CIRQ052]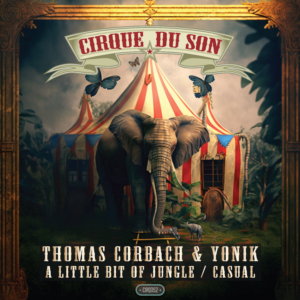 The night circus is once again buzzing with excitement as the fifty-second round of Cirque Du Son begins, ushered in by the talented duo of Thomas Corbach and Yonik. The opening track, "A Little Bit Of Jungle," sets the tone with a melodic techno beat that gradually builds into a lush soundscape of synths and percussions. The track's playful rhythm and organic jungle-inspired sounds are sure to keep the crowd moving.
Next up is "Casual," a track that lives up to its name with its relaxed and laid-back vibe. The dreamy melody is carried along by a steady bassline, while shimmering arpeggios and playful synth stabs weave in and out of the mix. The track is a perfect balance of light and dark, and showcases the duo's talent for crafting intricate, melodic techno.
As the night wears on and the circus heats up, the crowd is left with the sweet aftertaste of these two memorable tracks, once again proving that Cirque Du Son never disappoints in delivering unforgettable musical experiences. CIRQ052 Thomas Corbach, Yonik – A Little Bit Of Jungle / Casual is a release that is sure to be on the lips of techno lovers for a long time to come.
Tracklist:
01. Thomas Corbach & Yonik – A Little Bit Of Jungle (Original Mix)
02. Thomas Corbach & Yonik – Casual (Original Mix)
Beatport Release: 28.04.23
All Other Shops: 12.05.23