Contribute Translation, Xiasou – Shadow Sky / Heaven [CIRQ053]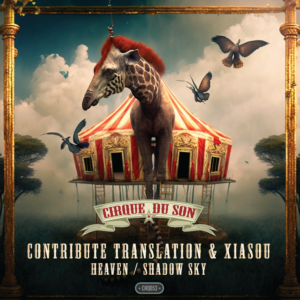 The spotlight is centered, a subtle tension building as the crowd awaits Contribute Translation & Xiasou's next sonic offering. And with their latest release, "Heaven" / "Shadow Sky" they do not disappoint.
Opening with "Heaven," the duo immediately draws the listener in with a deep and pulsating bassline. Warm and melodic synths wash over the track, creating an ethereal and otherworldly atmosphere that perfectly encapsulates the title's heavenly theme.
"Shadow Sky," on the other hand, takes a darker turn. A driving and hypnotic rhythm lays the foundation for haunting melodies and intricate soundscapes that evoke a sense of mystery and intrigue. The track's title perfectly captures its essence, as it feels like a journey through a shadowy and mysterious night sky.
As always, Contribute Translation & Xiasou display their mastery of the melodic techno genre, expertly weaving together intricate soundscapes and hypnotic rhythms to create a truly immersive listening experience. "Heaven" / "Shadow Sky" is a must-listen for any fan of the genre.
Tracklist:
01. Contribute Translation, Xiasou – Shadow Sky (Original Mix)
02. Contribute Translation, Xiasou – Heaven (Original Mix)
Release: 19.05.23