Thomas Corbach – Take Me To (Incl. Daniel Bruns Remix)[CIRQ054]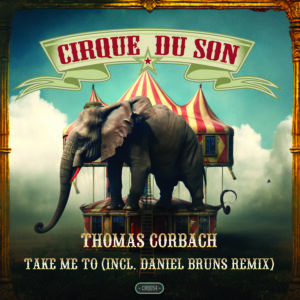 Step right up to the electrifying sounds of Cirque du Son's 54th release, where the night comes alive with the pulsating beats of Melodic Techno. Introducing "Take Me To," an entrancing creation by the talented artist Thomas Corbach, now enriched with the hypnotic touch of Daniel Bruns' remix.
Prepare to be transported into a realm of sonic wonder as "Take Me To" envelops you in its rhythmic embrace. The original track by Thomas Corbach sets the stage with its alluring melodies and intricately woven beats. But the spectacle doesn't end there – enter the captivating realm of Daniel Bruns' remix, where the essence of the original is elevated to new heights. Bruns' signature touch takes you on a sonic journey that's both evocative and exhilarating.
In this mesmerizing release, the spirit of techno comes alive as Corbach's artistic prowess and Bruns' remix expertise join forces. "Take Me To" beckons you to surrender to its magnetic rhythm, drawing you into the heart of the night circus. The pulsating energy and melodic allure will keep you entranced from start to finish, proving once again that Cirque du Son remains the premier destination for unforgettable musical experiences.
Don't miss out on this extraordinary release – "Take Me To" featuring Daniel Bruns' remix is a testament to the enduring power of Melodic Techno, leaving its mark on the hearts of devoted enthusiasts and paving the way for timeless memories on the dancefloor. CIRQ054 Thomas Corbach, Daniel Bruns Remix – Take Me To – an enchanting masterpiece that will resonate within the Techno community for years to come.
Tracklist:
01. Thomas Corbach – Take Me To (Original Mix)
02. Thomas Corbach – Take Me To (Daniel Bruns Remix)
Release: 06.10.23