Thomas Corbach – Deep / Bye Larry [CIRQ047]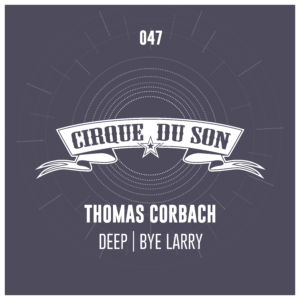 CIRQ047 Thomas Corbach – Deep / Bye Larry
Approaching the night circus, the flickering air is already steaming with a warm groove – pulling the excited audience deeper and deeper into the packed tent.
Conducted by the talent of Thomas Corbach the fourtyseventh round of the whirling wrestling of the senses that is Cirque Du Son is opened with his aptly titled Deep. Confound yet Mellow and subtle, the deep vibe of the title-track is pierced by counterpointing vocals suggestively confirming the deep atmosphere.
The housy push of the sonic freakster Bye Larry is pulling up the pace with a relentless groove, it's moving synths and hauntingly evocative freakish vocals.
Building a unique atmosphere that is both original yet ghostly familiar at the same time CIRQ047 Thomas Corbach – Deep / Bye Larry once again is one of these memorably genuine musical moments Cirque Du Son is known for.
Tracklist:
01. Thomas Corbach – Deep (Original Mix)
02.Thomas Corbach – Bye Larry (Original Mix)
Beatport Release: 17.06.22
All Other Shops: 01.07.22