Jesper Mauerhoff – No Doubt [CIRQ040]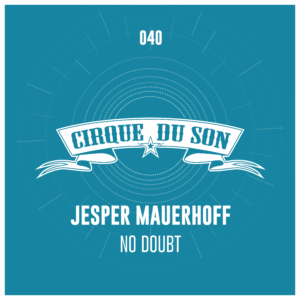 The spotlights centered, a hot and steamy tension is slowly building like the flickering desert heat of a mirage. A thick pumping pulse is foreshadowing the things to come. The lights fade, when the sudden sliding of curtains unleash Cirque Du Son's fortieth sonic surprise.
Jesper Mauerhoff – No Doubt leaves exactly that, rushing straight onto the heavy track.
Like the relentlessly heartbeat of a steamtrain, pushing and pulling through the dark night, a dense groove of thick fatness immediately takes the audience on board. Circling the arena in an intrepid loop, the deep centrifugal-force of CIRQ040 is slowly, yet constantly growing. Dragged by lulling tech percussion – the warm bass heavyweight is further heated with big chunks of fat synth, until No Doubt gains the rushing momentum of an ironclad engine – grinding it's own mass forward on it's nightly track.
Driving deeper and deeper, until suddenly bursting out of the tunnel's lock, into a firework of colours – exploding in the glistening light of arpeggiated synth-shine.
Tracklist:
01. Jesper Mauerhoff – No Doubt (Original Mix)
Beatport & Spotify Release: 30.07.21