Heerhorst, Daniel Bruns – Circus of Stars (Incl. Art Factory Remix) [CIRQ046]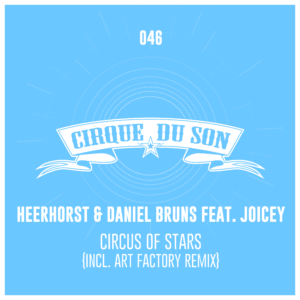 CIRQ046 Heerhorst, Daniel Bruns – Circus of Stars (incl. Art Factory Remix)
The crowds are standing in line for tonight's special – like a serpent hovering over her prey. Tensely waiting for the deadly moment of release – striking forward in a flash and sinking in the fangs – beautiful people came from all four winds to get their lock on the duo extraordinaire du jour. 
Teaming up a mass hypnotist with a liontamer andand tearing the roof off the tent, Cirque du Son's fourtysixth release "Circus of Stars" by Heerhorst & Daniel Bruns (CIRQ046) is an atmospheric open-air melodic house smasher that needs to be taken in the open.
Rich with organic drums of suspense and eerily yearning strings summoning a timelessly haunted vibe, the groove slowly builds and builds into a deeply pushing interplay of tensions across an eternal horizon of sound. When the hypnotising voice of the horse-masteress subtely guides your sonic path further under the "Circus of Stars".
Rounding off the original "Vocal Mix" the added "Instrumental" is accompanied by the pumping "Art Factory Remix", taking the circus to a whole now level with it's irresistible beat over a relentlessly pumping bass. Awash with cinematic action strings and roaring deeptech percussion Art Factory once again delivers his dynamic dancefloor mastery.
Tracklist:
01. Heerhorst, Daniel Bruns – Circus of Stars (Original Mix)
02. Heerhorst, Daniel Bruns – Circus of Stars (Instrumental Mix)
03. Heerhorst, Daniel Bruns – Circus of Stars (Art Factory Remix)
Beatport Release: 20.05.22
All Other Shops: 03.06.22