Contribute Translation & Xiasou – Sad Eyes / Save Me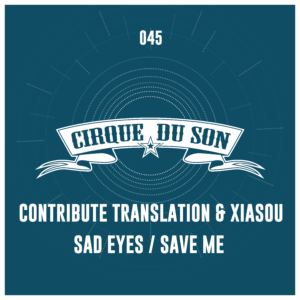 With their seminal D-Nox & Beckers enriched "Tell Me" still swirling in the fresh air, Contribute Translation & Xiasou's original and talented duo is already back with the circuses' fourtyfifth release  – Sad Eyes / Save Me. 
Starting out in moody deepness the title track, quickly establishes the vibe with it's haunting female vocal in the title giving "Sad Eyes". Transported by a mellow yet chunky bassline and subtle but flowing beat CIRQ045 is a warm and flowing ode to the beauty of the melancholic gaze itself.
Rounded-off by the duo's second groover "Save Me" their new release counterpoints their previous release in the ring. Already established as a household name when it comes to warm, hypnotically atmospheric vibes the sonic couple further fortifies their  mastery of chef-palate spiced tasteful adult grooves, leaving us hungry for the next courses to come.
Tracklist:
01. Contribute Translation & Xiasou – Sad Eyes (Original Mix)
02. Contribute Translation & Xiasou – Save Me (Original Mix)
Beatport Release: 22.04.22
All Other Shops: 06.05.22